Meet Skyler Van Dyke, Founder of Alpha Glass & Window in Englewood, CO
That headline kinda spoils the ending of this story, but it's still worth telling you anyway!
After high school, Skyler needed to figure out a direction for his adult life and thought real-life work experience could help with that. He started serving tables & tending bar at night and, during the day, he got a day job working as a glazing apprentice for a small glass company in the area. Just like that, he had taken his first step toward creating Alpha Glass.
It might be more accurate to say he took a big step toward creating this company. Skyler's first steps in business came much, much earlier in life. Raised in a family of engineers, Skyler's interests gravitate toward business and the STEM fields. Unlike others his age idolizing sports stars, Skyler spent his time reading about business leaders. He wanted to learn about their best strategies or groundbreaking scientific discoveries. He found successful people and wondered about how they built their businesses, managed their teams or dealt with taxes. How do you purchase equipment and commercial real estate?
After a couple of years, Skyler had saved up enough money and enough experience that he was confident that he could head back to school, secure in the knowledge that he could provide for himself. At the Metropolitan State University of Denver, he discovered a love for the accounting side of business as well! He made Finance his major but worked out a schedule that still let him tend bar at night and learn the glass trade during the day.
Life became extremely busy during this time. Keeping up with friends and homework was almost impossible but he found a way.
Eventually, his school schedule became too much of a strain on the glass company he was working for and they went their separate ways. Skyler still loved the industry and didn't want to see it end but no other company was keen on his peculiar school schedule.
That's when I thought, "if I want to continue doing this I'll just have to start my own company." He bought a trailer, built a glass rack on it, filed the paperwork to incorporate and so started Alpha Glass & Window, LLC.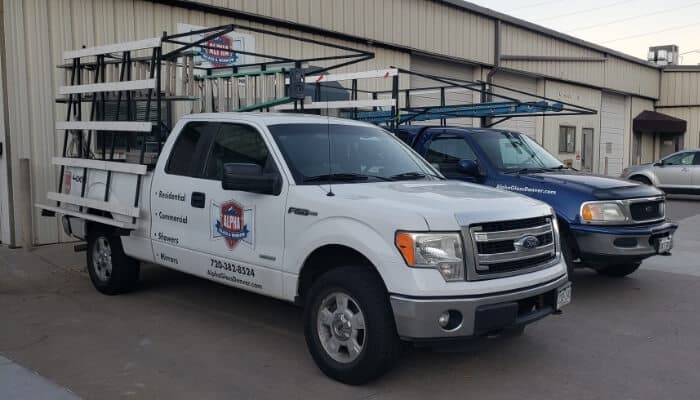 Clarity in Values
Skyler still had so much to learn before Alpha Glass & Window would be the company that's before you today.
Going to school, trying to grow a construction business and working nights at restaurants took everything he had in him. Before long, another fork was upon him: continue with a career in finance or continue growing his own business. It turned out not to be much of a choice at all. He had become too attached to running a company and there was no question which path he'd take.
After school, he continued working alone doing simple residential re-glazes, but before long, Skyler began pushing his boundaries. He started learning how to do full window replacements, complex shower enclosures and home gym mirrors. The size of these new projects made it obvious that he was in the market for help.
Now Alpha Glass & Window has trucks on the road working on residential and large commercial projects across the Denver Metro Area with a team that feels more like a family.
Over the years I saw a pattern repeating with every customer I worked with. Those patterns became the core values of Alpha Glass & Window:
Communication. Excellent communication was foundational so they knew what to expect with their project. It's also why we lay out our Alpha Glass Process.
Professionalism. Everyone wants the best workmanship, someone who is at the job when they say they will be and, ultimately, their project done right. That's what we do.
Integrity. Lastly, people all wanted to work with some they knew they could trust. Letting people know that will get their project completed without having to worry became one of our main focuses!
Nowadays, Skyler spends most of his time working but rarely sees it as work. "I love what I do and the people I work with."
He also works in 5 am gym sessions at least 4 times a week and still loves to listen to audiobooks and watch science documentaries.
The Benefits of Low-E Glass
At Alpha Glass & Window, our interest in scientific discovery led us to be big fans of energy-efficient glass. We also think that if you're a fan of saving money then you're going be love Low-E Glass, too!
Learn all about Low-E Glass from Alpha Glass & Windows.