Residential Bathroom Glass In Englewood, CO
Glass is especially versatile. That's what makes it a great material for your new bathroom or renovation projects. Alpha Glass & Window is equally versatile, making us a great choice to handle your residential bathroom glass needs.
People often use glass for showers, doors, enclosures, mirrors and as a purely decorative element. You can even make the basin of your sink out of glass!
Glass not only offers great flexibility in shape and size, but it's also very easy to clean. If you are thinking about ways to include glass in your project, call 720-382-8524 today. We can schedule a free consultation to talk more about your job. You'll feel good knowing that you are dealing with professionals that understand the specific requirements that glass has in different parts of your home. You may not even have known about the need for specialized glass in a place as humid as a bathroom, and that's okay. That's why you call the professionals at Alpha Glass & Window - the clear choice!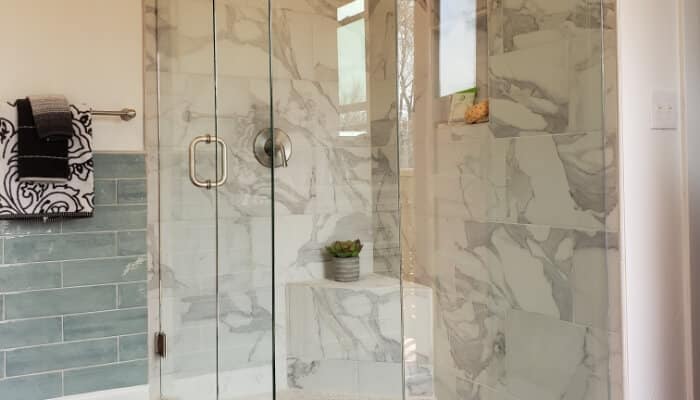 Glass Shower Doors & Enclosures At A Great Price
The shower is usually the visual centerpiece of your bathroom. Don't let that opportunity go down the drain! Put all of that focus on beautiful glass shower doors or a one-of-a-kind glass shower enclosure from Alpha Glass & Window!
The feel of a shower can bring you such comfort, but you can't limit that to the water on your skin! It should also feel amazing when you look at the physical shower enclosure, too. If your current shower brings you all the joy of a dirty clothes hamper, call 720-382-8524 today.
You don't have to worry about breaking the bank to get this kind of upgrade in your home, either. As a local company, a reasonable price is important to us. We live in the same communities that you do! We hold our heads up high when we're out and about because we know that we're doing high-quality work at a great price. Further, if money is an obstacle, we can even help you get financing for your new job!
Why Choose Alpha Glass & Window For Your Bathroom Renovation?
When it comes to bathroom glass, Alpha Glass & Window is the clear choice. We carry the highest quality glass - perfect for any bathroom. Whether you're looking for a new shower door, a glass vessel sink, or even just a simple framed mirror, we have what you need. Plus, our experienced professionals are always available to help you choose the right product for your home. Call 720-382-8524 today for a free consultation. Work with a company that will communicate clearly with you every step of the way!