Commercial Glass Storefronts, Windows & More Near Englewood, CO
If you are looking for commercial glass repair, a new glass storefront, mirrors, or any other glass for your business, Alpha Glass is the clear choice!
Not only are we a one-stop shop, making the process as simple as possible for you, but we understand the unique pressures that a business owner is under. Trust us! That's why our prices are fair, we get you your service quickly, and communicate clearly with you during every job we do. It's the Alpha Glass Process! Call 720-382-8524 today if you are in business because we want to be in business with you!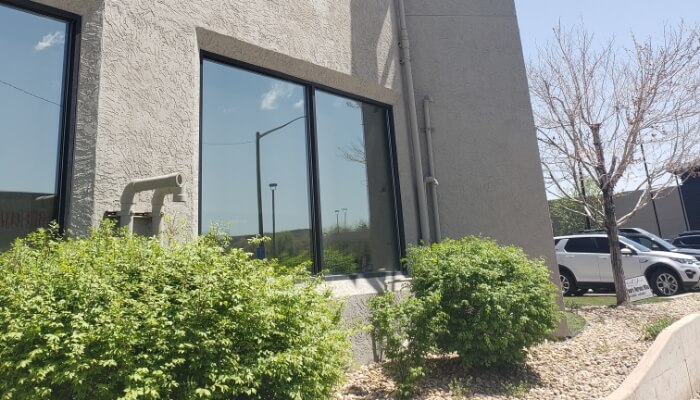 Serving the Denver, CO Metro With New Commercial Glass Storefronts, Windows, Curtainwalls & More!
Whether you are thinking about new construction or an upgrade to your existing commercial space, Alpha Glass & Window can handle the storefront glass installation for you. We help improve the appearance and security for:
quick-service and fast-casual restaurants

sit down restaurants of all sizes

retail stores

small to light commercial

strip malls

office buildings

new warehouses

and more!
Perception is reality! The way your business looks has a huge impact on your bottom line.
Learn more about how we can help people see you better with new commercial storefront glass!
We Can Repair The Storefront Glass You Already Have
Between the weather and the wrongdoers, it's easy to see how your Denver area business can be picking up the pieces of a broken window or door on any given morning. This isn't just a cosmetic issue, either. Broken glass is dangerous and it compromises the security of your property!
The good news is that, in most cases, we can repair that commercial glass for you. This saves you both time & money!
Learn more about our commercial glass repair service.
Virtually Double Your Space With New Commercial Mirror Installation!
A mirror is not just something you hang up to cover a rough spot in the drywall. The design and functional elements they provide can be an integral asset to the interior of your office, multifamily dwelling or retail space!
That's why we do everything from ADA-compliant mirrors in your commercial restrooms to a mirrored wall that makes small spaces feel enormous. If you are looking for a few accent pieces to give your space that professional finishing touch, we can help with that too!
Find out what Alpha Glass is the clear choice for framed or frameless commercial glass mirrors.  
A Trusted Sub-Contractor For Property Management Companies In Englewood, CO & The Surrounding Areas
Want to know a secret? If you've been to a restaurant, fast casual chain, apartment complex, or any space in our area taken care of by a management company, you may have already been served by Alpha Glass!
We are probably your property manager's secret weapon! The smart ones know how much work it takes and the almost impossible demands on your time. That's why they rely on us for multi-unit glass repair! It gives them more time to focus on the things that they do best by letting us do what we do best. We also understand the finer points of working with your insurance company, too.
Learn more about getting Alpha Glass & Windows as the glass vendor for your property management company!