Custom Glass Shower Doors In Englewood, CO
At Alpha Glass & Window, we specialize in frameless Euro-style shower enclosures. We recommend these modern-style custom glass shower doors for many reasons. The best thing about them is that there's minimal hardware to detract from the look of your shower space.
We also love that frameless shower doors are much easier to keep clean than traditional shower enclosures and offer an almost invisible look. Call 720-382-8524 today to set up a free consultation!
Glass, glass, and more glass – that's what we do!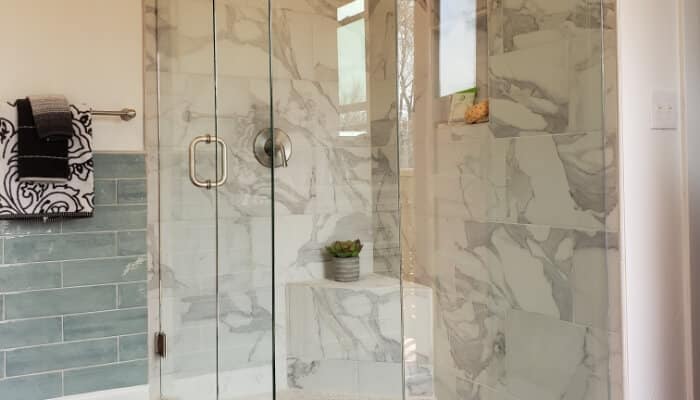 What The Are The Benefits Of A Frameless Shower Glass Door?
A frameless shower door provides the benefits of glass along with a luxurious finish that will seamlessly match the rest of your bathroom remodel. Additional benefits include:
Transparency. Glass is see-through, of course, and this enables you to showcase the tile, granite, or other materials that your shower walls have been constructed to include. Sure, we all love that standard shower curtain, but most would rather see tasteful mosaic or square tiles behind your custom shower enclosure instead.

Convenience. If you've ever felt a cold, wet shower curtain against your side, you can probably understand why a glass shower door installation will save you a lot of frustration. Frameless shower doors are easy to use and keep clean, so you can hop in without trying to hold back a curtain with shampoo bottles in your hands.

Subtle style. Unlike traditional shower doors, custom shower enclosures enable you to choose door handles and hinges to match the style and finish of your faucet, shower head, and other bathroom hardware. This means that you can carry the same style from one room to the next and achieve complete continuity.

Perfect fit. Frameless shower door installation isn't a "one size fits all" concept. Your shower installation should complement the rest of your bathroom, and Alpha Glass and Window is prepared to ensure that every shower door installation we provide is designed to be a perfect fit for your space.
Whether you are looking to change the look of the entire bathroom or just want to fix a broken shower door, call 720-382-8524 today for Alpha Glass!
Traditional Sliding Shower Door Replacement & Installation
Sliding shower doors, also known as bypass doors, can be a great solution for small bathrooms. Sliding doors make the most efficient use of the space available, making them a great fit for guest bathrooms and even apartments. Best of all, they often come with a smaller price tag for cost-conscious remodelers.
If you are looking for a lower-cost option, we also install a variety of more traditional doors. Call 720-382-8524 today to discuss the wide range of options Alpha Glass has for your project. We can even help you get financing for your job, so don't wait!