Professional Sliding Door Glass Repair Near Englewood, CO
A broken sliding door glass can put a real damper on patio season and even become a safety hazard for you and your family. That's why it's important to deal with the broken glass in your sliding door it quickly and have a professional install a new pane of glass.
Our technicians have dealt with every type of sliding glass door repair, and we understand how frustrating broken glass can be. That's why we pride ourselves at Alpha Glass & Window on doing it right the first time! Call 720-382-8524 today to get a free estimate on your job!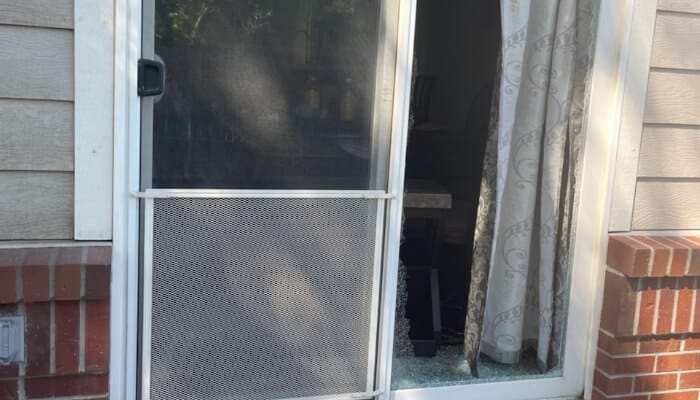 Can You Replace Glass Only On A Sliding Patio Door?
Yes! Alpha Glass & Window is literally here to do that. We deal with broken, shattered, cracked, or foggy glass all the time. In most cases, the fix is an easy one for us, helping you keep the weather outside and providing the safety your family needs. The best part is that replacing the glass instead of the door can save you quite a bit of money!
We work hard to ensure that we are not only providing value but that your sliding glass door is fixed with minimum interruptions to your life. The next time your patio door is hit with weather, a rogue baseball, or burglary, let Alpha show you how a quick, professional repair can get you right back to your normal lifestyle.
Call 720-382-8524 today for a free estimate! We work right in your neighborhood which helps us to minimize your downtime.
If a simple repair can't solve the issue, we also handle professional sliding glass door replacement and installation services.
Englewood, CO's Trusted Sliding Door Glass Repair Service Provider
Alpha is honored to be Englewood, CO, and the surrounding area's trusted provider for sliding glass/patio door repair and replacement services. We're focused on serving our community with affordable, local solutions that everyone can benefit from. Our team offers the best glass products and we are excited to work with you on your next patio glass repair. We built our company on a foundation of integrity, workmanship, and a responsibility to give each project our best effort. So if you're dealing with a broken or cracked sliding glass or French door, contact us today to discuss your project and determine the best solution to fit your needs.