Broken Window Repair near Englewood, CO
When your windows are in need of repair, our team has the knowledge and experience to resolve the issue quickly and effectively. We'll begin by providing you with an on-site estimate to capture the full scope of your project and take measurements of your existing windows so that your new glass will be a perfect match.
There is an infinite number of ways to break a window and cause cracking or full shattering. It might be something as simple as a small rock that is launched by your lawnmower, a damaging storm, or the classic baseball that flies a little too left of left field. If you have older windows, broken window repair and replacement service can significantly improve both the look and performance of your windows, so this may be the upgrade opportunity you have been looking for!
Alpha Glass & Window specializes in home broken glass and window repairs in Englewood, CO and the surrounding Denver areas.
Call 720-382-8524 today for an appointment!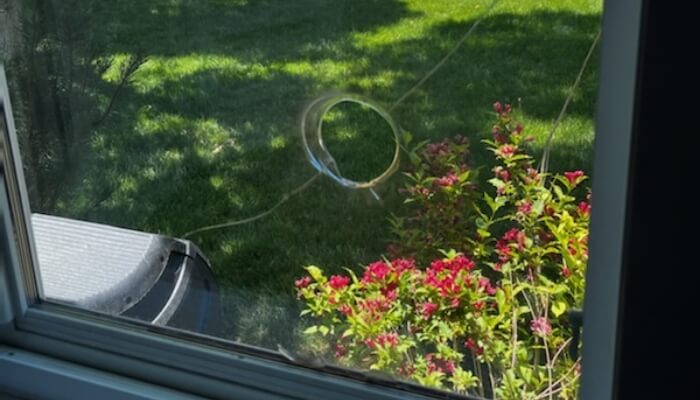 Essential Glass Window Repairs near Denver, CO
Are you looking for professional glass repair services in the Denver area? Look no further! Glass repair is a critical service in the Denver area due to the region's unique weather conditions and environmental factors. Alpha Glass has spent years serving homeowners and property managers with mirror and window glass repair and replacement so we understand the importance of timely and reliable glass repair to keep your property safe, secure, and visually appealing.
Denver's extreme weather conditions, including freezing temperatures, heavy snowfall, and hailstorms, can take a toll on glass surfaces. Our skilled technicians specialize in repairing cracks, chips, and shattered windows caused by these harsh weather events. With our prompt glass repair services, you can restore the structural integrity of your building or vehicle and ensure the safety of its occupants.
Safety, Security & Efficiency are Our Top Priorities
We know that damaged or broken glass compromises the security of your property, making it vulnerable to intruders. Our expert team will efficiently repair your windows, doors, skylights, or windshields, providing a secure environment for your home or business.
Energy efficiency is another crucial aspect we address. In Denver's fluctuating climate, properly functioning and well-insulated windows are vital to reduce energy costs associated with heating and cooling. Our glass repair services seal gaps and cracks, enhancing insulation and improving energy efficiency in your property.
We also understand the importance of aesthetics and property value. Glass is a prominent architectural feature, and damaged or deteriorated glass can significantly impact the overall appearance and curb appeal of your property. Our skilled technicians will restore the visual appeal of your building, enhancing its value and leaving a lasting impression.
When it comes to glass repair in the Denver area, trust the expertise and professionalism of Alpha Glass. When you have a broken window or glass repair that just cannot wait, we are the ones to call.
Can You Replace Part Of A Window?
Depending on the damage to your window, we may be able to replace only the actual windowpane itself, instead of replacing the whole window. This is a much more affordable option, and once your professional window installation is complete your windows will be equipped with upgraded, Low-E glass panes.
Replacing only the damaged glass is a great option if you're looking to keep the costs down, and we'll be sure to provide information on this method when on-site with you. Call 720-382-8524 today to set up a free consultation!
Why Use Alpha for Home Window Glass Repair?
Our team at Alpha works hard to remain a trusted source for high-quality, high-efficiency windows in the Englewood area. We have years of experience in home window glass repair, replacing broken windows and professional window installation services.
We're committed to providing durable, secure, and affordable options because we've built our company on a foundation of integrity and high-quality workmanship. Contact us today to discuss your broken window replacement and receive friendly, helpful service!
What happens if you don't fix a cracked window?
Unfixed cracked windows can lead to a number of issues, including:
Energy loss: Cracked windows let heat, cold, or drafts into your home, increasing energy use and escalating utility costs.

Security risks: A broken window is simpler to break through, which could jeopardize your home's security.

Additional Damage: A minor break can enlarge with time, increasing the repair cost or necessitating a complete window replacement.

Cracks that enable moisture to leak in can cause wood to decay, mold growth, and damage to neighboring structures.

Cracked windows detract from the aesthetic value of your home and can lower its market value.
As you can see, ignoring a cracked window may increase costs, cause hazards to safety, and cause potential damage.