Professional Storefront Glass Installation In Englewood, CO
At Alpha Glass & Window, we are dedicated to providing businesses in Englewood, CO and the surrounding areas with professional commercial glass and storefront window installation. We help your business maintain a positive image and ensure that your building is secure and protected from the elements.
We have successfully completed projects for small business owners as well as large property management companies. We have also had a lot of success working with general contractors to install new storefront windows! Let our experienced team work with you on either new or existing buildings.
Would you be surprised to find out that we work with many property management companies outside of the Denver area? We're not! They choose us because we have a simple process for commercial glass installation that makes their work easier.
We consistently provide streamlined service to businesses in and out of our community. Let us provide it to you, too! Call 720-382-8524 today so you can focus on your customers and leave the glass to us!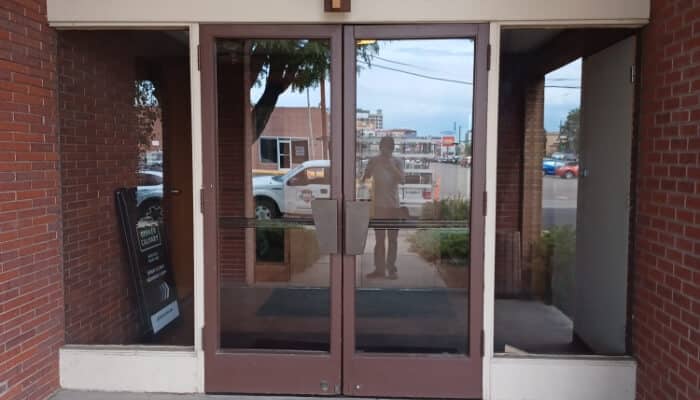 Your Denver, CO Metro Storefront Window & Glass Installation
The Apha Glass & Window team can work with a variety of small businesses and property management companies on their storefront window and glass installation, including:
retail shops

restaurants

office buildings

gas stations

and more!
Call 720-382-8524 today for a free estimate on your job!We also work with small to mid-size storefronts to install sneeze guards and commercial mirror installation. Our thorough and customized process will ensure that you have a beautiful, long-lasting storefront for years to come.
If you're dealing with a broken or foggy window, we also offer commercial glass repair services.
Choose Alpha Glass and Window
Our team is focused on providing professional, cost-effective solutions for commercial storefront glass and window installation in Englewood, CO, and the surrounding areas. We are a local business and we are highly experienced in installing new glass storefronts and windows.
We've been helping our customers with their glass needs for many years and have been able to do so as a result of the responsibility and respect that we show on every job. Whatever your glass needs are, Alpha Glass & Window is ready to work with you!
For more information about the commercial glass installation process or to receive a free quote, contact us today!
How much does commercial storefront glass installation typically cost?
The price of installing commercial storefront glass can vary significantly based on a number of variables, including the size of the storefront, the type of glass used, the installation's intricacy, and the location. Installation of commercial storefront glass can cost anywhere between $200 and $600 per square foot on average. The real cost, which will depend on the demands of the project, may be greater or lower than this initial estimate. For accurate quotations, it is advised to get in touch with nearby glass installation businesses because they can offer thorough evaluations and pricing depending on your needs.